Coming Soon: The Husband List
June 27, 2023
Book #2 of The Worthington Brides
Beloved by Regency fans and those who enjoy richly detailed historical romance, the chaotic and captivating Worthington family returns in a delightful new novel from this USA Today bestselling author—ideal for readers of Julia Quinn's Bridgerton series and of Sabrina Jeffries, Eloisa James, and Tessa Dare.
While her older sisters have sought out adventure, Lady Madeline Vivers is content to be the conventional one in the family. A respectable husband, spring and autumn in Town, a place in the country—these are Madeline's very reasonable goals. And Mr. Harry Stern is not the man to help her reach them—no matter how much he causes her pulse to race. He is far too ambitious and determined to make his mark in Parliament. Yet, somehow he's convinced that Madeline is just the helpmate he needs . . .
The moment Harry witnesses Madeline gently convincing a shopkeeper to hire the child who is stealing from him, he's intrigued. If only she realized how much good they could do together, aiding their fellow countrymen and women. And the way her color deepens at his touch tells him she too feels their intense attraction. In fact, Harry has never felt so powerful an attraction either. What better reasons to use all his gifts of persuasion to convince her she belongs by his side—and in his arms . . .

Coming Soon: Mass Market Paperback edition of Enticing Miss Eugenie Villaret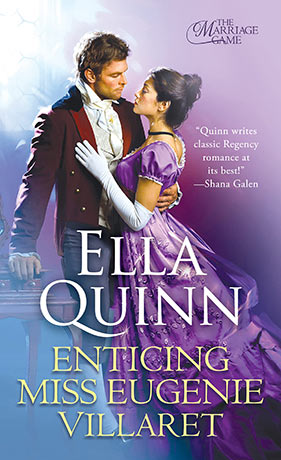 October 24, 2023
Book #5 of The Marriage Game Series
Ella Quinn's intriguing and irresistible bachelors are masters in the game of seduction. But nothing has the power to change a single man's mind like a captivating woman…
William, Viscount Wivenly, plans to remain the most eligible of bachelors. He refuses to surrender to the schemes of husband-hunting ladies and matchmaking mamas. Fleeing the pressure of the ton, he's bent on finding refuge in the West Indies. What he finds instead is a fascinating stranger, a woman so unlike those of his society that he can't resist such a beguiling distraction…
Determined to let nothing complicate her mission to protect her family's livelihood while covertly rescuing orphaned slave children, Miss Eugénie Villaret does her best to evade suitors. But when dashing William lures her down a path of forbidden adventure and delicious danger, she may be convinced that business can indeed be mixed with pleasure—and persuaded to add passion to her priorities...