Coming Soon: The Most Eligible Viscount in London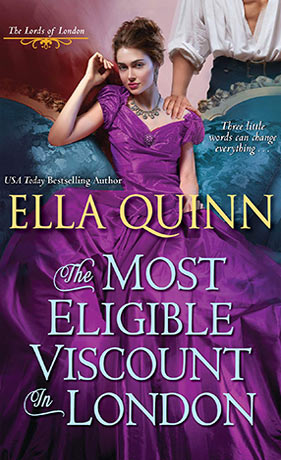 Book #2 of The Lords of London Series
March 30, 2021
In bestselling author Ella Quinn's intriguing new Regency trilogy, a dashing suitor must decide if love and marriage are mutually exclusive . . .
Viscount Gavin Turley is convinced that love matches cause nothing but trouble. Still, after months of courting, he's fallen for Miss Georgie Featherton. He's passionate about her, in fact. But words of love are not an indulgence he will allow himself. When he presents Georgie with his marriage proposal, he will lead with his head—not his heart. His qualifications as a husband are excellent, after all. What could go wrong?
No sooner does Gavin kneel on one knee than Georgie's heart goes aflutter with joy. Finally, the proposal she longed for had arrived. Yet Gavin seemed to be listing his credentials for a business partnership, not a romantic union. Without a declaration of love, Georgie can only reject his offer—unless the ladies of the ton, and Georgie's grandmama, have anything to do with it. For sometimes it takes a wiser eye to see the love behind a guarded heart—and a clever scheme to bring it out of hiding . . .

Coming Soon: A Midsummer Night's Romance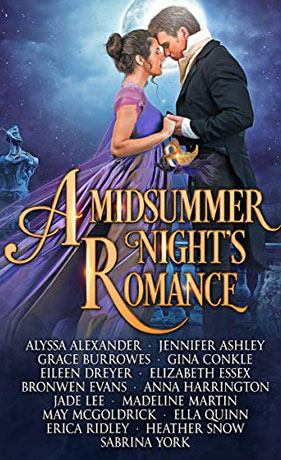 May 18, 2021
An Invitation to the Ball…By Fifteen of Your Favorite Historical Romance Authors

You are cordially invited to the most anticipated event of the Season — Lord and Lady Whitwell's annual ball! This year's theme is the most extravagant yet…A Midsummer Night's Dream, filled with fairytale gardens and fantastical costumes, sparkling champagne, and heartwarming romance. Opportunities abound for secret trysts in the shadows of moonlit walks, mistaken identities, delicious unmaskings, and perhaps even a magical spell or two. But one thing is certain—fifteen pairs of hearts will never be the same again. Enjoy this collection of never-before-released novellas by your favorite historical romance authors!
Grace Burrowes
Erica Ridley
Ella Quinn
Jennifer Ashley
May McGoldrick
Sabrina York
Bronwen Evans
Jade Lee
Anna Harrington
Madeline Martin
Elizabeth Essex
Eileen Dreyer
Alyssa Alexander
Heather Snow
Gina Conkle